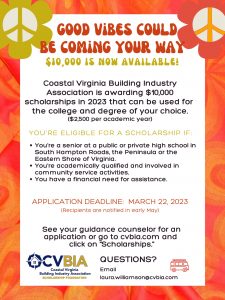 Scholarship Application
Click here for the 2024 scholarship application (fillable format) COMING SOON!
COASTAL VIRGINIA BUILDING INDUSTRY ASSOCIATION
SCHOLARSHIP FOUNDATION
5041 Corporate Woods Dr., Suite 245
Virginia Beach, VA 23462
Dear Applicant:
Coastal Virginia Building Industry Association Scholarship Foundation is a non-profit organization that was established in 1965 by a group of local successful builders who wanted to give back to their community. Since then, the scholarship foundation has awarded more than $1.9 million to hundreds of deserving students in the Tidewater area who have a genuine need and want to further their education. In 2023, four $10,000 scholarships were awarded.
Sincerely,
Dee Fain
CVBIA Scholarship Foundation
dfain@cvbia.com
757-305-9017